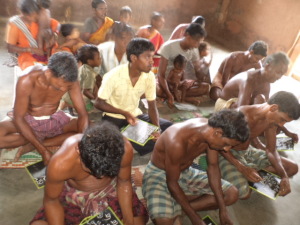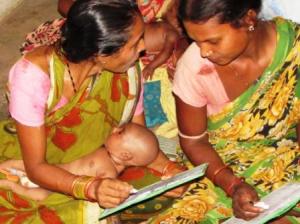 The tribal men and women from the Eastern Ghat mountains Odisha are learning to write their name, which is  a tremendous boost in their self esteem. As you can see the people are eager to learn, but they are extremely thankful and happy that their children are getting schooling and are learning to read, write and do maths.
In the tribal village of Kadimaha Odisha we gave the challenge to the women to see who wanted to become proficient in reading. Putra, a strong tribal woman raised her hand. One is all we need. The teacher will teach her one hour daily until she can read and write well. I told her that I would be back to see her again, and that she needs to start reading books to the other village women. She was so thankful that someone showed faith and confidence in her. The village women walked our team of four back to the river, which we waded through. They also came into the water and they were so surprised when this "foreign dignitary" started splashing them. It was only a second before I got a full dose back. Great fun!
_________________________________________________________________________
IDENTIFICATION CARDS
Most of the children and adults that we work with have no identification. The children only know their personal name and their parent's name i.e. My name is Shanti and my father's name is Kumar. They don't know their age nor their date of birth, so we sit with the parents guesstimate their date of birth, which becomes from then on their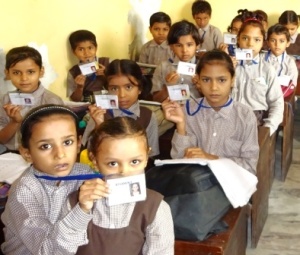 official date of birth. Before they have an ID anybody can snatch them and sell them in the market and there will be no trace of them. By giving them an identification card their confidence and sense of belonging grows as they can show who they are. Before the cards are endorsed by the society office with the proper stamp we put their name in our register, so we have the children and the adults on record.