WHY DO YOU GIVE SPONSORED EDUCATION?
I have spoken to people who asked me "why do you want to educate them? They have lived like this forever. It is no use."
Listen to some of the children:

Gurgaon, Haryana: My name is Jatin. My parents live in the village and I live with my older sister in Gurgaon, because I want to study and there are no proper facilities in my village. My parents are not able to pay the school fees. But in Marudyan Learning Centre I get free education and I can build my future and I am very thankful for the help we get. (Dr. Rajeev said that Jatin is very malnourished. Jatin has spots on his face and body and many white hairs. He is doing better since we serve the midday meals)
Gurgaon, Haryanan: My name is Sonu.  My father name is Mr. Mr. Munim Ansari.  There are 5 members in my family.  I am studying in Marudyan Learning Centre.  I belong to a family which is not in a good condition.  My father works very hard for our living. He hardly earns 3000 to 3500 in a month.  With this amount, it is very difficult to complete all expenditures of the family, but then also he wants me to study, so that I can become a worthy human being in my life. But he cannot afford the high fees of the schools, Marudyan school in which I study for last one year has helped us very much.  If this school does not support us then I never would study in my life.  For this help my all family is very grateful to my school.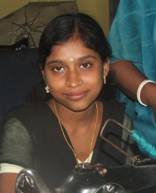 Dhanpota, West Bengal: Hi I am Shuleka Chakraboty. I have always studied in Marudyan School and passed as best student of my class. We are 3 brothers and 3 sisters. My older sisters are married one has 1 child and the other has 2 children. Our family lives in a mud-house. My father is Krishnachandra Chakraborty and he used to ride a cycle-van (this is a bicycle with carrier that can carry goods or people). My father is 60, he is just recovering from tuberculosis so he is now physically not capable to do this work. For me to continue my studies in 11th and 12th grade I need to pay 1400 rupees to M. A. V. M. School for admission charge, but we don't have the money. At present I am learning to sew at the Marudyan Vocational Training Centre, so I can earn some money. I would very much like to finish my studies and become a teacher. My parents would like me to finish my studies, but cannot afford to pay for me. I humbly request Calcutta Marudyan to help pay for my studies.(Calcutta Marudyan has paid her admission fee and has bought a set of school study books for her to use. These books will remain property of the society and are to be returned when her studies are finished)
We would like to work hand in hand with active members of society who want to do their part to make this world a better place with a brighter future, where every child born in this world will have the opportunity to grow up with love and an adequate education to develop the God given talents that he or she is endowed with at birth.